A new generation, a new way of thinking
The Chevrolet Equinox compact SUV will spawn an electric variant, set to go on sale in the fall of 2023. The first images of this new model show off its sleek exterior and futuristic interior, which are a far cry from the current gas-powered Equinox. The 2024 Chevy Equinox EV will take advantage of GM's new BEV3 platform as well as its Ultium battery and Ultium Drive technologies.
Exterior
The Chevrolet Equinox EV is slightly smaller compared to the ICE Equinox. It's a completely different silhouette, and the lack of the wraparound back glass and short overhangs instantly sets it apart from the combustion model.
At the front, the Equinox EV features a curvy hood, a full-width LED day time running light strip, a closed nose section with a black surround featuring C-shaped outer ends and horizontal main lights, and a compact lower grille. On the sides, the Equinox EV has normal five-spoke wheels and flush door handles, although we're not sure whether the latter is a production-intent feature. Thick C-pillars and a strong shoulder area are among the noteworthy design details on this new vehicle.
Interior Design
The 2024 Chevrolet Equinox EV interior consists of a chunky dashboard, a clubbed fully digital instrument cluster and a touchscreen infotainment system housed together on a single horizontal panel that has a floating effect, and a rather compact center console.GM designers have reduced the amount of buttons wherever possible to make the interior clean and minimalist. The EV does have physical controls for basic functions like adjusting temperature and airflow, which some customers find practical. The round AC vents on the flanks add to its sporty character, and the quadrilateral air conditioning vents above are also a nice touch. The green light bar on the steering wheel confirms the availability of the Chevrolet Super Cruise autonomous driving system.
---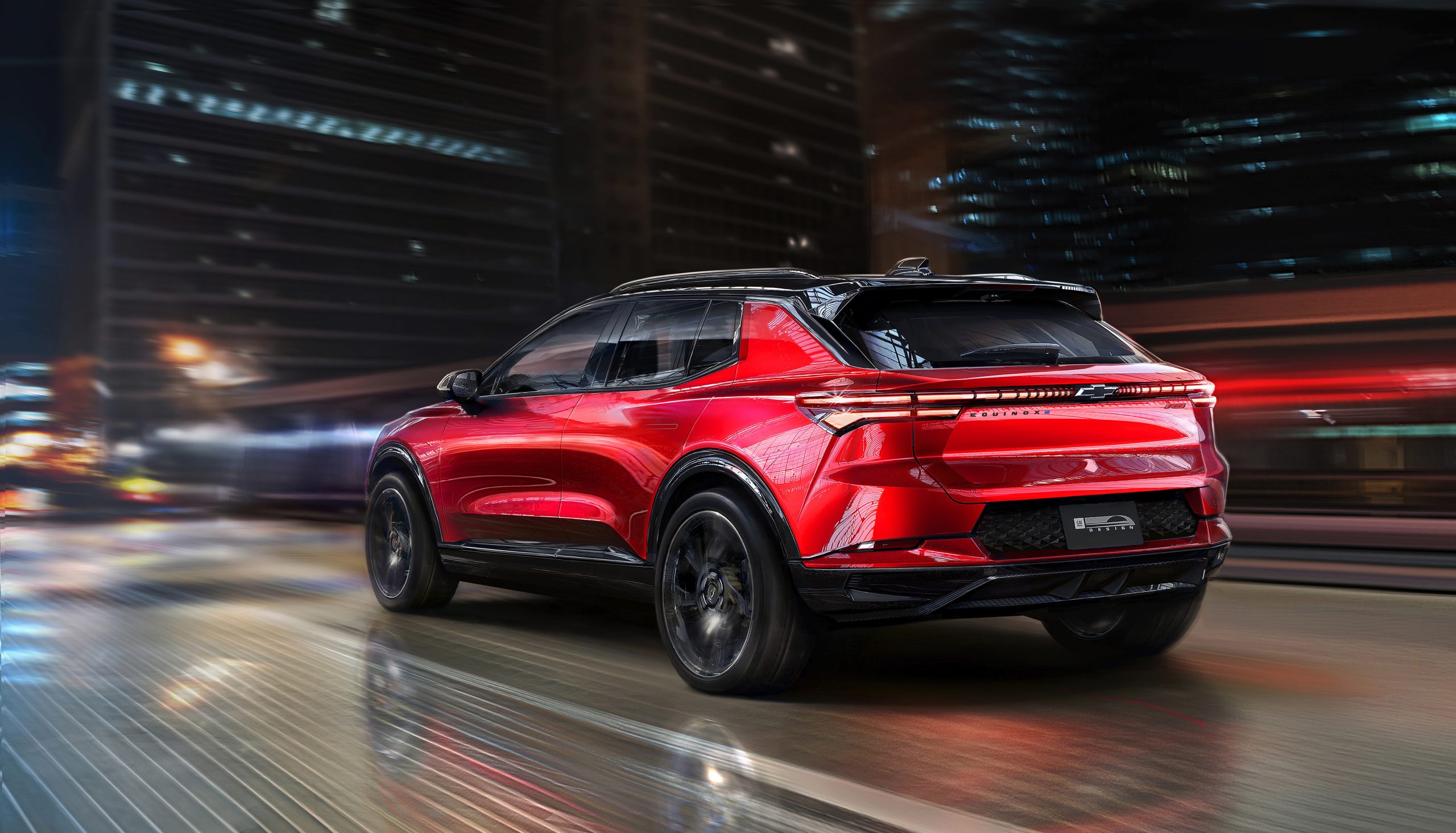 Super Cruise
By 2023, GM wants 22 models on sale to be available with Super Cruise driver assistance. The company will rollout Ultra Cruise, the door-to-door hands-free driving technology superior to Super Cruise the same year. GM will continue improving it by introducing new features and rolling out the enhancements with over-the-air updates.
Super Cruise has resonated with our customers, with more than 85 percent of those who experience the technology telling us they want it in their next vehicle. More than 10 million miles have been driven using Super Cruise, and that number grows every day. We'll have Super Cruise available on 22 models across our GM brands next year, and we'll add even more each year, ultimately making the technology available across the majority of our portfolio.Mary Barra, Chair and CEO, GM (CES 2022 keynote on January 5, 2022)
Reserve your 2024 Chevrolet Equinox EV